Telling the Story of a Business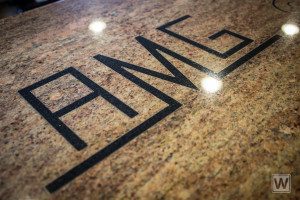 Unless you are a stone fabrication connoisseur, you may not realize the level of precision and craftsmanship that our client, American Marble and Granite or AMG, bring to their installations. I knew they did nice work because Evolutn Homes + Remodeling (Workshed Partner Brian is an owner) uses their services, but how they achieve their results is impressive. Our mission was simple: to create a website that reflects the quality and care you'd receive by working with American Marble and Granite.
Reflecting Quality
American Marble and Granite has been in business for over two decades. During that time, they've built a reputation based on precision installations using innovative technologies backed by outstanding customer service. Like many businesses, their focus was (is) on producing great work and their digital personality (website and social media) started to fall behind what  you'd  expect to see from a company of their caliber.
This is a common story for many businesses, and it's exactly why Workshed exists. Just having a website isn't enough, especially if the business you are in has any competition. Most of your customers are going to check you out online before making a decision. When they do, what are they going to see? What story does your website tell?
In the case of AMG, they have an incredibly sophisticated process and set of tools that they utilize on every project. For example, a routine granite kitchen would start by being laser measured and templated. To minimize the visibility of seams, the slabs then get laid out and photographically arranged before finally getting cut by a water jet machine that has tolerances into the thousandths of an inch.
Their old website didn't effectively convey the their expertise or capacity for innovation.
Projects We Love
This is exactly the type of project we love. Client's that are exceptional at what they do, and busy enough to need help executing an effective marketing plan for their business. In reality, a great website is just a start; it forms the basic infrastructure that is needed to support the important stuff…content.
In addition to their website, Workshed also created or "remodeled" the AMG social media presence and customized a video intro and ending to use with a series of videos they have planned (we also found a smartphone app for editing the video and combining it with the intro and ending). One of our mantras is to make it easy for the customer to do business with you, on the web that means publishing your content anywhere your customers are so they can find it. American Marble and Granite saw the value in this, and we helped deliver their vision to the virtual world.
If you are considering having granite, marble, or quartz installed in your home you'd be crazy not to give Paul and Ellen (the owners) a call. Their staff and innovative tools allow them to do countertops that other companies simply can't, and we haven't even mentioned they have the largest inventory of stone in Southwest Washington.
Give them a call.