What do you do?
Part of what we do at Workshed is help our clients distill their value to potential customers into bite-sized chunks that are easily understood. It's a lot easier to do for other people than it has been for our own business. In truth, we do a bunch of different things that are all intended to do one main thing – make you more money (not in the Ebenezer Scrooge sense, but in a healthy, sustainable sense). Communicating that succinctly has been challenging.
In nearly all of our initial meetings, the question of the cost comes up. While this is perfectly normal question, it's not very helpful in making a decision about retaining our services. In reality, we perform our services and build websites that cost nothing. No, we don't work for free, but the additional revenue and cost savings we create more than pays for what we charge.
Enter the analogy
Imagine the revenue of your business as a delicious pie (or a pie chart if you have no imagination). To explore the cost issue in this scenario, we'd essentially be asking you to give us a slice of pie. For some businesses, $5-10k might be a significant chunk of that pie, and with pie being so delicious, they don't want to share. We understand your aversion to pie sharing in this situation…we are businesses owner too and have been asked to share our pie many times. That's why we became bakers.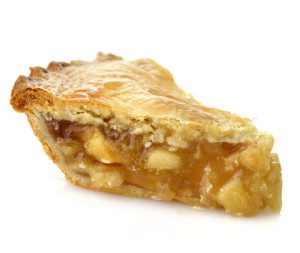 Rather than ask for a piece of your existing pie, we help you bake a bigger one. A pie large enough to give us a slice and still have more leftover than the pie you started with.
We bake bigger pies
What's our recipe? Simple, we focus on the result rather than just one or two ingredients like the flour or baking soda (which are not delicious on their own). We combine our ingredients (websites, design, photography, marketing, social media, video production) to bake a delicious pie for your customers.
Now you know what we do.  Anyone hungry?